What you seek is seeking you!
A month of eclipses, planet retrogrades, endings and seeking what we truly desire
As we are receiving huge transformational energies throughout this month we are unfolding into a new world (golden age). We are in the middle of the transition; things may seem to oscillate on extremes this month. With this entire chaos, the human race is learning to understand that we all are connected and it's high time we reconnect with each other and nature.
It's a month of unsettling energy. The restless mind will lead to anxiety and frustration.On a personal level you may feel restricted, angry, and confused. On a global level, there will be unrest and anger among people. The internal energy of masses will get manifested on the global level in the form of natural calamities and fury among people.
What's good this month?
It is a really good time to study something new, read books, do research on topics you always wanted to. Start any new business or project after 15th July.
You are called to break free of anything that is holding you back! Release any feelings of helplessness or fear that are creating a sense of entrapment. The good news is that the limitation that you perceive as hindering your progress are self-created and therefore can be uncreated ! You can free yourself. Over-thinking can keep you from moving in the direction of your heart's desire. So practice letting go, physical exercise, meditate, and breathe more.
You have the opportunity to heal your past traumas, relationships, body, etc. You may feel more free and confident by the end of this month in your personal endeavours.
In the 2020 yearly forecast, I have emphasised to focus on what you wish to create in your life rather than your fears. So remember we are creating what we are focusing on right now…
So let's throw our energies in the direction of healing as a society and create a beautiful world.
What's challenging?
There's a tendency to overthink, get drawn to negative and fearful energies. There may be a rise in illusion, rumours, miscommunication, difficultly in travel. There will be a lot of resistance to change; fear of uncertainty…hidden secrets may come to light. Avoid believing everything that you hear or see. You may feel very stubborn and fanatic. You may feel like avoiding taking advice/suggestions from authority and gurus. Be diligent and more flexible.
Relationships can be challenging. Work on relationships, heal them, and get help if required.
Be kind and careful with your words. As a community, we will have to reconsider the ways in which we express love and receive love in our lives. Introspect and be aware of the human capacity to love and create as well as to hate and destroy
Avoid overspending, take care of your finances, it's time to go back to basics. Invest in your health. Take preventive measures.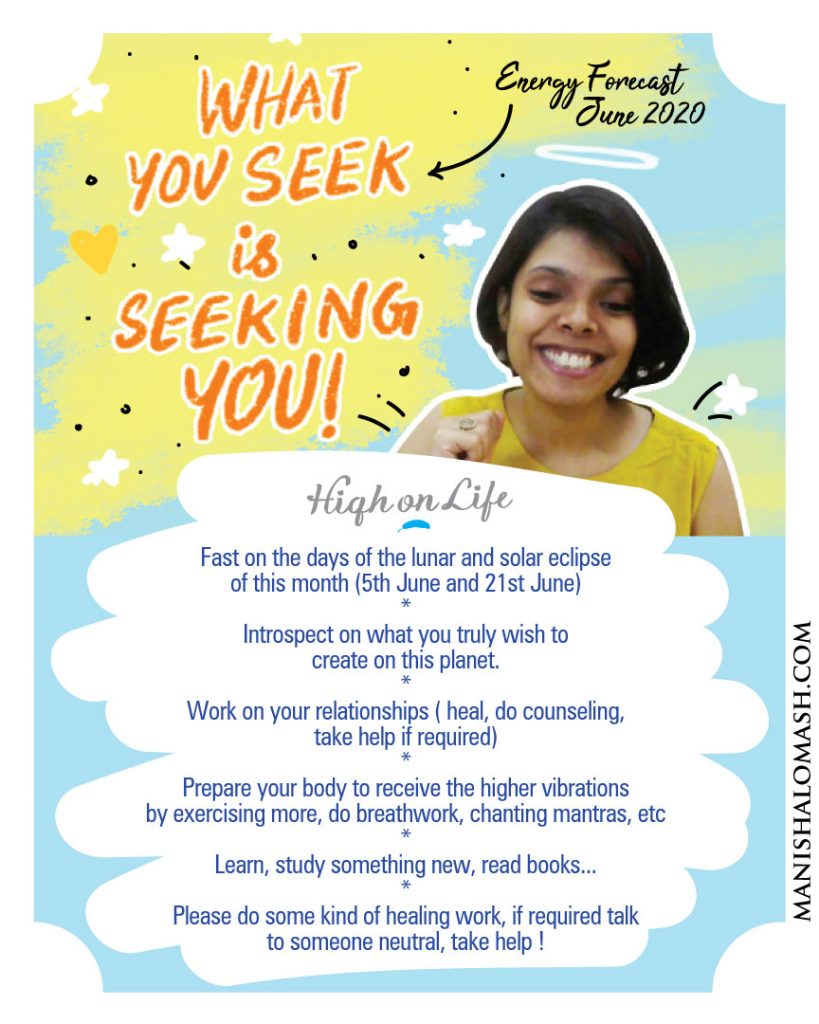 What you can do to make the best of this month?
Fast on the days of the lunar and solar eclipse of this month (5th June and 21st June)
Talk less…be cautious with your words and actions
Introspect on what you truly wish to create on this planet.
Work on your relationships ( heal, do counseling, take help if required)
Prepare your body to receive the higher vibrations by exercising more, do breathwork, chanting mantras, etc
Learn, study something new, read books…
It is really time to look within and avoid external distractions
Please do some kind of healing work, if required talk to someone neutral, take help !
Subscribe to my youtube channel for all the updates on monthly forecast and other Interesting video's.
click here https://www.youtube.com/channel/UCHswSC7K_n8rJQZd3Z9RXKw